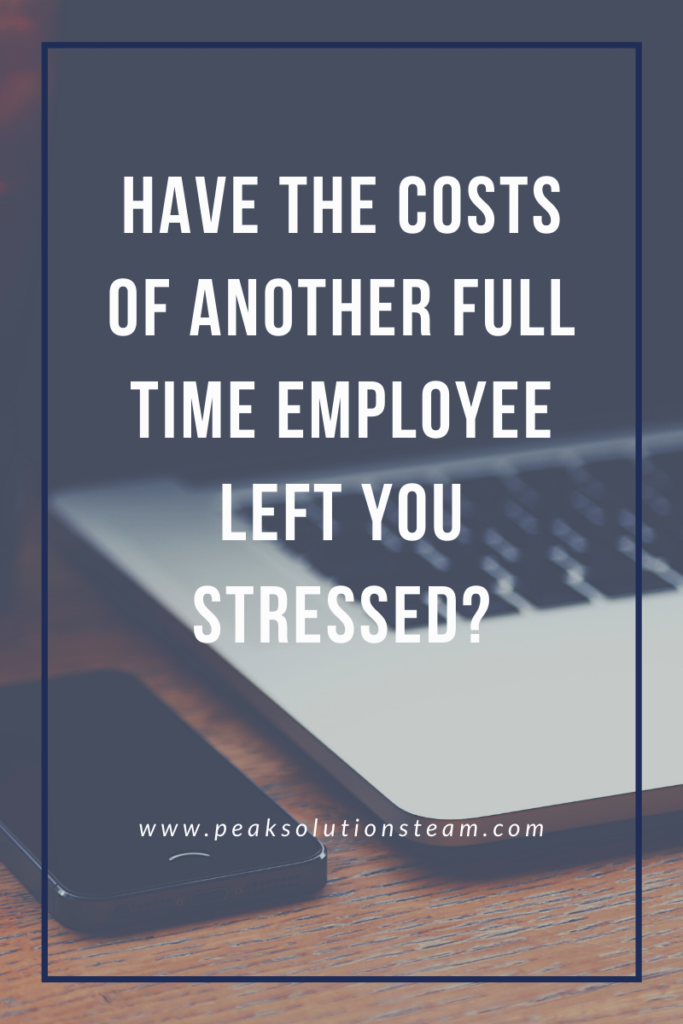 The decision to bring on another full-time staff member is stressful. The costs are not just financial, but also emotional. Unless you have an HR Department that does every step in the hiring process from A-Z, chances are you are tasked with at least a few parts of the process. You have to squeeze time out of your already packed schedule and in the time of Covid-19, figure out how to manage your pieces of the puzzle with the new guidelines and restrictions. We will discuss hiring virtual assistant advantages compared to a full-time staff below. 
You have to be ready to pay another full-time salary, matching taxes, and any benefits you offer.
Everyone feels like they deserve high pay. People often ask for raises 60-90 days after coming on board. You will have to invest so much time into training and hope it works out. The start-up costs to add a new team member are a real financial investment.
Just writing about it is stressing me out!
This stress is one of the reasons I gravitated towards using offshore Virtual Assistants. The hiring culture is different. The expectations are different. It provides a release valve to the pressure cooker that hiring a US-based, full-time person has turned into. You are also going to get a guaranteed ROI on your hire much more quickly. Sometimes with a local hire, you might not ever even get that ROI.
Hiring a VA with Peak Solutions relieves stresses in multiple ways:
More Efficient Process. We are your Recruiter, Head Hunter, Hiring Manager, and HR Generalist in one.
Quicker Hiring. With Peak Solutions, the start date of your VA is 7-10 days after we have discussed your needs
Culture. Most of our VA's are based in the Philippines. The culture is very rooted in loyalty. Once your VA is hired, you will not experience high turnover.
Cost. It's literally a fraction of the cost of a US-based person and without matching taxes or benefits.

When you use Peak Solutions Team, you won't have to send money overseas. You will just get a simple monthly invoice from us, a US-based LLC.

Support. You will get someone that can immediately support your current staff.
The stress relief upon hiring your VA is immediate.
The above are just a few of the advantages of hiring a virtual assistant. The feedback I hear most often from clients is how quickly they started sending tasks to the VA and how impressed they were by the quick response time and high quality. Peak Solutions helps every step of the way to make sure the transition to your VA is smooth and the ramp-up to work time is quick. So really – what does this cost you?  Have a conversation with us.